Congratulations! You're one step closer to cleansing those troublesome stones!

For best results Cleanse Drops should be taken for 40+ days. Cleanse Drops may also be taken for prevention and maintenance. All orders come with an extended 90 Day Money Back Guarantee. Orders placed before 4PM (PST) are shipped same day.
Time left for special promotion:

20 Day Cleanse (Mild Cases)
1 Bottle of Cleanse Drops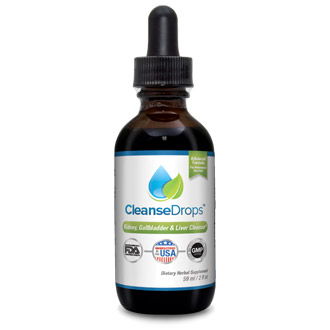 Order Today & Receive Your Cleanse No Later Than:

40 Day Cleanse (Moderate Pain)
2 Bottles of Cleanse Drops - MOST POPULAR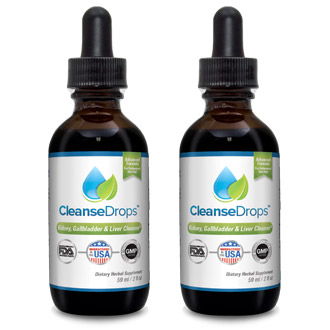 Order Today & Receive Your Cleanse No Later Than:

60 Day Cleanse (Severe Pain)
3 Cleanse Drops + FREE Blue Hawaiian Colon Cleanser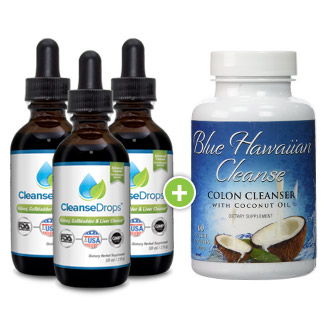 Order Today & Receive Your Cleanse No Later Than:

Helps to clear, alleviate, & prevent large stones.*
$104.97 $164.96
SAVE: $55.87 (37% OFF)
Click here for details
4 Month Cleanse (Extended Protection)
6 Cleanse Drops + 2 FREE Blue Hawaiian Colon Cleansers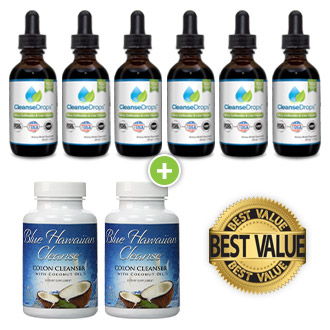 Order Today & Receive Your Cleanse No Later Than:

Helps with long term prevention and maintenance.*
$179.94 $329.92
SAVE: $149.98 (46% OFF)
Click here for details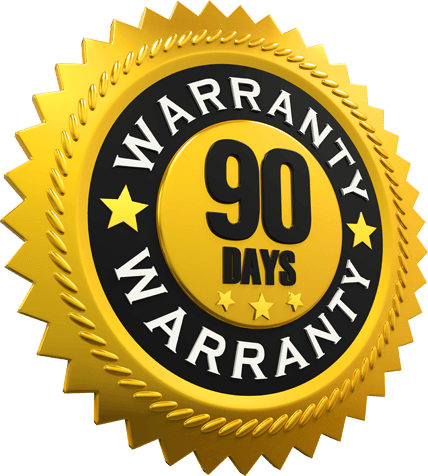 Your satisfaction is so important to us that we offer an you an extended 90 Day Money-Back Guarantee!

What that means to you is that if within 90 Days of your cleanse you are not satisfied with your cleansing process then simply return your bottles, used or unused, and you will be refunded in full (minus shipping costs). We can successfully offer this honor system refund policy because we know our product works and believe in trusting our customers to be honest about their experiences.
★★★★★ Where In The World Did My Kidney Stone Go?
By Customer - Verified Purchase
What can I say to an X-ray that shows a Kidney Stone all during the week I was prescribed a prescription drug, and it didn't move at all. Then the following week after "adding" the Cleanse Drops (20-drops, 3 times daily), another subsequent X-rays doesn't show anything, and yet, nothing seemed to have "passed"? Is the Kidney stone stuck somewhere hidden from view? Did the kidney stone turn to dust? Did the kidney stone break up? I don't know! It's not there! All I can say is I'm still taking the Cleanse Drops, and will use it all up. There's no after effects, no pain, no kidney stone! Give it a try and be as baffled as I am!*
★★★★★ Drops keep me out of the hospital
By Alex G - Verified Purchase
I have to say that I was skeptical at first. I suffer from chronic kidney stones. In 2014 I had at least 8. As soon as I pass or have one removed, within 4 to 5 weeks, I would have another. I like the Cleanse Drops because it is for the most part tasteless. I put 40 or more drops into a glass of water several times a day. Since starting on Cleanse Drops I have been able to control pain levels and have stayed out of the hospital. The last stone I had removed was 13 millimeters in size. When I am in pain, I double up on the drops. When the pain is minimal, I almost stop taking the drops. within a couple of weeks the stones are back and use the drops again. It works. The big thing with me is that I am staying out of the hospital and I attribute it to the drops.*
★★★★★ If you have gallstone issues, you need to try this product!!
By Lady Z - Verified Purchase
This is actually an update. I started the drops on June 25th, 2015. I stayed on the regular regimen for a little over 2 months, then dropped down to the maintenance dose. I had ONE, count 'em ONE, episode after starting the drops. I have not had any issues with gallstones since mid July of 2015 and we are half way through January of 2016. My stones were called "gravely" and not huge. But large enough to cause extreme discomfort when trying to pass. I just ordered another bottle of drops so I always have them on hand. These have worked so well for me, I am ecstatic! I do eat healthier than I used to and I did find that it helps a little to eat slower also. I cannot tell you how wonderful it has been to be episode free for so many months. I try to remember to take the drops once a day 3 to 5 days a week. This was a God-send for me. *
★★★★★ I'm amazed
By R. Pederson - Verified Purchase
I waited to find out the results from my doctor before I responded back to your company. I have had 4 lithotripsies to blast the kidney stones and one surgery when the blasting failed. I started to use the Cleanse Drops for three weeks and went for an Xray. The fragments from the blasting are totally gone and my doctor was very pleased. Normally they seem to have a little seperation anxiety and fine each other again and then I have to go thru the blasting once again. Thank you SO much for making a product that actually works. Sincerely, R. Pederson* *
---
Frequently Asked Questions:
Are Cleanse Drops Safe?
Yes, Cleanse Drops were designed by some of the top holistic health care researchers in the world. It is meticulously sourced and manufactured with strict standards so as to guarantee potency and purity; *However it is always important to consult your physician when making changes in your diet or supplement regimen.
How soon will Cleanse Drops begin to work for me?
It depends on the severity of the condition, but many customers notice an almost immediate reduction pain. Customers have reported their stones clearing with 7-14 days after beginning their cleanse. *Results may vary
How long should I take Cleanse Drops?
It is recommended that an individual undergo a minimum of two cleansing cycles back to back in order to ensure proper stone clearance. Three cycles is ideal. It is also recommended that an individual consume Cleanse Drops for 20 days out of each month to prevent stone recurrence. *Results may vary
What are the side effects and can I take it with other medications?
There are no known contradictions with combining Cleanse Drops with other medications or supplements. The only known side effect to Cleanse Drops is mild nausea. Otherwise there are no other reported side effects. *However is it always important to consult a physician before undergoing any new health regimen.
Is there a money back guarantee?
Absolutely! We offer a full refund for any customer that is not satisfied up to 90 days after taking Cleanse Drops. Just send your bottles back to us used or unused and we'll refund your money. No questions asked.
Are you a real company?
Yes, Cleanse Caps, LLC is located in sunny Southern California:

Business Address:
236 Fischer Ave Costa Mesa, CA 92626.
(866) 865-3016 / Info@CleanseCaps.com